Start Gallery celebrates fourth anniversary
May 2, 2015 9:53 PM MST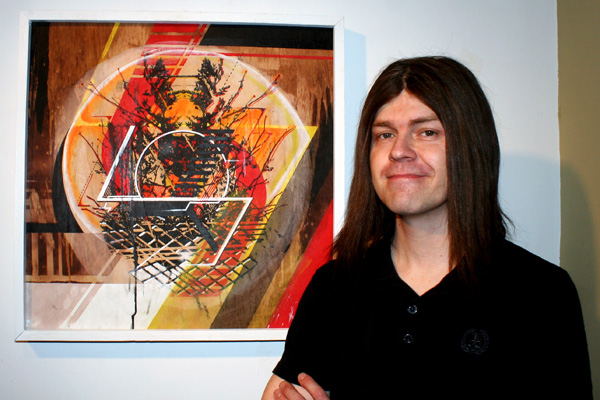 Jason Reed poses with one of his paintings at Start Gallery. Photo by Alonso del Arte.
Start Gallery started four years ago, and in the time since has established itself as "an important part of Detroit, especially for up and coming artists," said Robert Adams, an artist who had a solo show there in 2012 and has participated in group shows there. To celebrate, gallery owner and director Jason Reed put together a show titled Bold Moves, featuring his collaborations with Kevin McCoy and Dennis Maitland, a show that opened earlier tonight.
In the gallery's back room, there is artwork from past shows, like Beyond the Machine and Start Wars, by artists like Matt Busch and Jason Dunivant. There is one painting by Candy Draper, an artist who is of special significance to Start Gallery. Not only was Draper the first artist to exhibit at the Start Gallery, "she was the catalyst for me to start this gallery," Reed recalled. For the gallery's first anniversary in 2012, Draper had a solo show.
Start Gallery first opened on May 6, 2011, with a Draper solo show titled Chaos in Color. A closing date for the current show has yet to be announced on the gallery's Facebook page.